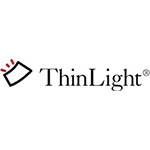 ThinLight Lighting Wire, LEC *. We encounter this versatile light source in more and more forms nowadays.
Sometimes as an accent light on theater stages, fashion shows and exhibitions. Sometimes like
design elements in office and shop interiors.
ThinLight Light wire, LEC * is also used as a safety light at emergency exits, even
sewn into workwear and built into different types of products. In this brochure you can on
discover for yourself the possibilities with our lighting solutions.
High voltage light wire – best suited for indoor use but can sit outdoors. The wire is approved for the safety requirements IEC 335-1 4000 Volt insulation breakdown and IEC 335-1 850 ° flammability. Humidity not more than 65%, operating temperature is -20 – + 50 ° C.
Tensile strength 2 kg. Can handle currents of max 100 mAmp.
Brightness at 200V @ 2000Hz can reach 400 cd / m2Ø3.0-3.7 mm